**********Extremely Pic HEavy *********
So i decided to post a blog of my makeup collection....i wasnt going to cuz i felt like crap all day [ Im sick : ( ] but i changed my mind so here it is...
I dont have any high end make up yet but...tomorrow ill hopefully be going to ulta with my friend annabel so ill see what i buy...


So this is the new set up i have now i got the idea of the black containers from
Lady Lostris
...and below ill show what exactly is in each drawer
so this is a top look..i have my mascaras and l/g that i hardly use..i have like double mascaras cuz i bought them when they were on sale...[2 for the price of 1]



so here i have eyeshadow palettes and singles





more eyeshadows



here are eyeliners, both pencil and liquid and my fave eyelash curler



here are lipsticks and l/g..the ones i use the most



more l/g and lip balms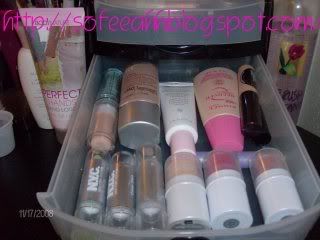 this is mostly face stuff..concalers and foundations...and my elf all over cover sticks



here are colored e/l and NYX jumbo pencils



and this is where i previosly stored all my make up...but now it has only some of it and also my journals and misc stuff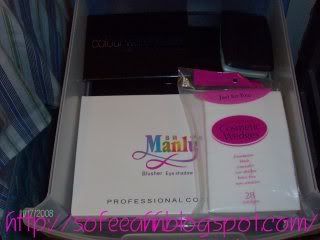 top drawer my bigger palettes including my 120...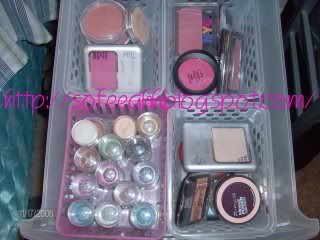 and the second drawer which contains face powders, blushes, bronzers and my L.A Colors loose e/s
so thats it....this is my makeup collection so far.....but I'm trying to stop cuz my hubby is getting kinda mad at me already...Im really trying ughrrrrr :(